procession2

Most of the Necrological photos were taken by the traditional point and shoot cameras thats why I still needed to have it scanned. Both my past posts reflected photos from my digital camera which were faster to upload.
As mentioned in my past post, some people from the Knights of Columbus gave me a call and asked if they could hold a Necrological service for my father. At the onset, I could recall my dad saying not to allow any such service to be held during his wake. On the other hand, besides having so much info on my mind that time and knowing I never informed or called them up, I said to myself, why not? I guess I was not mistaken for it was a fitting tribute to a man who served the organization the longest time as of this period.
Below was the Necrological Ceremony program:
Knights of ColumbusManila Council 1000
Necrological Ceremony for the Late
Sir Knight
Hilarion C. Tolentino
(Oct 21, 1923-May 23, 2005)Part IA. Opening HymnB. Our Order and Its DeadC. EulogyD. Presentations of - Resolution of Condolence, Mortuary Benefit, Perpetual Mass CertificatePart IIE. 4th Degree Perpetual Mass CertificateF. Presentation of the Golden ChaliceG. Presentation of the Golden Chalice CertificateH. Presentation of the SwordI. Response from a member of the Bereaved FamilyJ. Concluding PrayerK. Farewell Salute by the Honor Guards and Brother Knights
Photos below were the various presentations given by KC:
presentation1

presentation3

presentation4

The presentation of the Chalice and Sword were both interesting. The Chalice they mentioned is usually given to the wife but since my mother has also passed away they were giving it to me instead.
It was also mentioned that this chalice must not be kept but given to a new or missionary priest who will need it badly. Dad's name was engraved on it so the priest who will be receiving this will remember to pray for his soul during mass.
SK Torrente the master of ceremonies related that a similar chalice was also given to Jacqui Kennedy for the late John F Kennedy but she kept the chalice with her for long.
Below is a photo of the chalice presentation:
presentation5

chalice

The Presentation of the Sword is usually handed over to the son of the deceased. Since I was the only child, they were looking for the nearest male relative. The closest to dad that I could think of was my tito paquito but he was in chicago. The next one, my cousin Piling was still on the way from Bulacan. They didnt inform me earlier of such reqts ergo they had no choice but to hand the sword to me :)
On hindsight, I feel thats what my dad wanted.
sword2

I was asked to give a response while they were explaining the program earlier. I declined cause I didnt want to prepare anything and cry. Nevertheless they still called on me so I had no choice but give one. Well I was able to hold up without much tears perhap just misty eyed and at times a cracked voice while I reminisce the times ages past when I spent much of my childhood in the KC mother council at Intramuros, learning how to bowl, watching the billiards (which I never liked till now), learning the food biz in mom's canteen, acting as muse in their basketball team and most of all, the annual three kings celebration. There were two years that I was really sick come the Three Kings celebration. Dad to keep up the tradition, brought the Three Kings celebration in our home at Philamlife!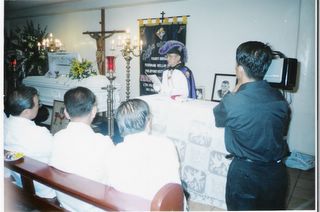 concludprayer

Farewell Salute by the Honor Guards: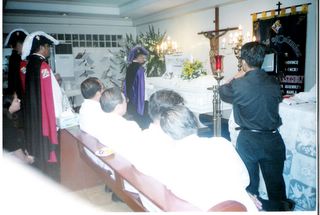 honorguard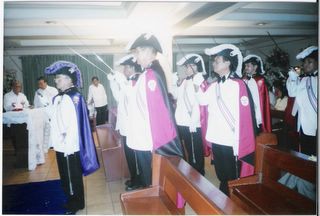 necroprocession