We just finished our major annual event this week, the 4th National eCommerce Congress and Exhibit. After several sleepless nights, nerve-wracking incidents and tense situations, it turned out quite a success - ballroom was so full the waiters had to bring in extra chairs and all the booths were sold out that our event organizer had to sell tables (booths will no longer fit).
We started late since we had to wait for our keynote speaker, Congressman Simeon Kintanar who also happens to be the chairperson for ICT in the House of Representatives. CICT Commssioner Mapa came on time but didnt have breakfast yet rushing to the Intercon ballroom so I had to accompany him to the coffeeshop while waiting for our other guest.
Fortunately, the guest everyone was waiting for arrived at past 11am as he promised, Sen Mar Roxas. He went around the booths first since Atty. Claro Parlade (Lalen) was still presenting. I signalled Lalen to wrap up then went on stage to introduce the senator.
As he was about to step inside the ballroom, all the lights went out! Obviously all his security men surrounded him. Such drama! That was the time of the metro wide brownout!
To top it all, while I was on the podium asking the people to wait for the mystery guest, I heard a thud and i said to myself that must be a human being! It was and it turned out Winthrop lost his balance and fell down! Well obviously the hotel was liable for that having no emergency light!
We were in total darkness for around 15 mins. Mon and Teddy though were great entertainers and kept the crowd still while waiting for the lights to open.
Sen. Roxas shared a mouthful but that will be the subject of another post. After the q and a, we thanked him and led him outside.Little did I know that he wanted to talk to us more. He tried looking for a good place to talk and decided on the Businessworld booth. He stayed for more than an hour and gave us some assignments to do for the community and the filipino people at large.
As to what we discussed - I would rather wait for the write up to appear on Manila Standard Tonight on monday. Little did I know that the business editor was standing behind us and took down everything :) He texted me saying he will publish this on monday so if in case it appears on the online edition, I will just copy that here.
In the meantime, just to give you a glimpse of what transpired, below are more photos:
My Welcome address: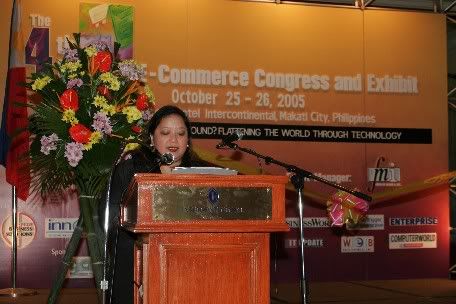 Ribbon cutting led by Congressman Simeon Kintanar (ICT Committee Chairperson in the House of Representatives) and CICT Commissioner Damian Mapa with the PICS board.
Congressman Kintanar in his talk asked the audience to raise the hands of those who will be supporting some of the bills he has lined up.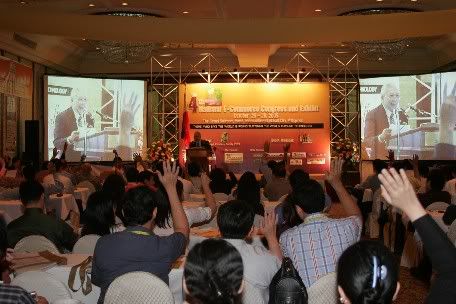 Congressman Kintanar, Atty Parlade and moi listening to Comm Dondi Mapa's presentation: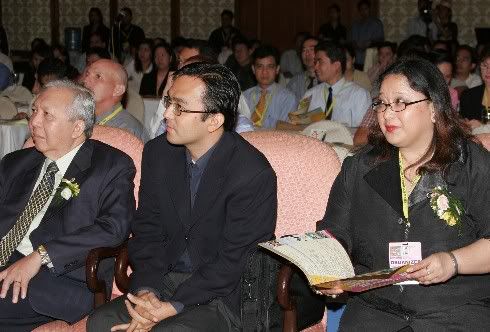 Some of the
PICS
board together with Dennis Valdes,
PDI
director and CEO
Print Town welcomed Senator Mar Roxas right at the hotel entrance.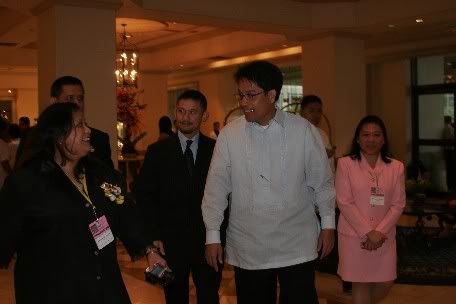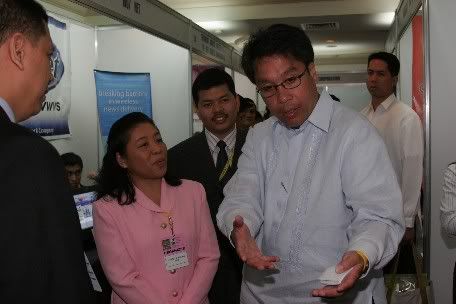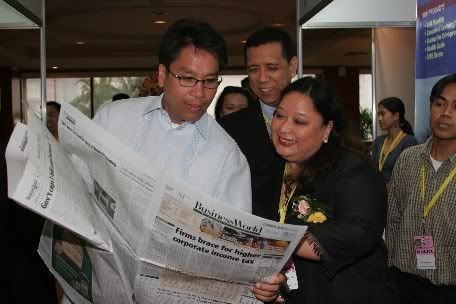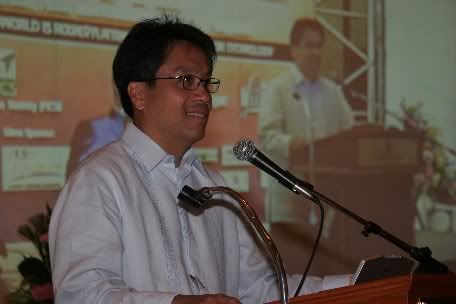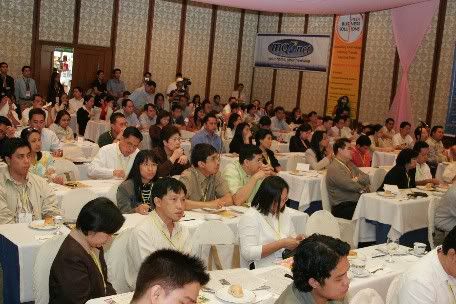 After giving his message to the delegates and answering a few questions, we escorted him outside but all of a sudden he wanted to sit down and meet with us and he found the businessworld booth convenient.
Saying goodbye and thanking the senator at the exhibition area on the second floor
Our very own Wilson Ng gave one of the most inspiring talks during the second day of the conference. Here he is straight from the airport waiting for his turn near the stage.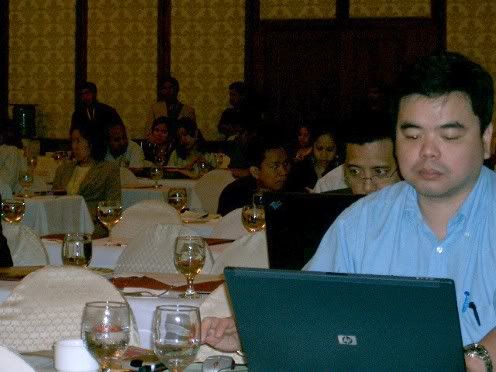 Panel on Payment Infra concerns :